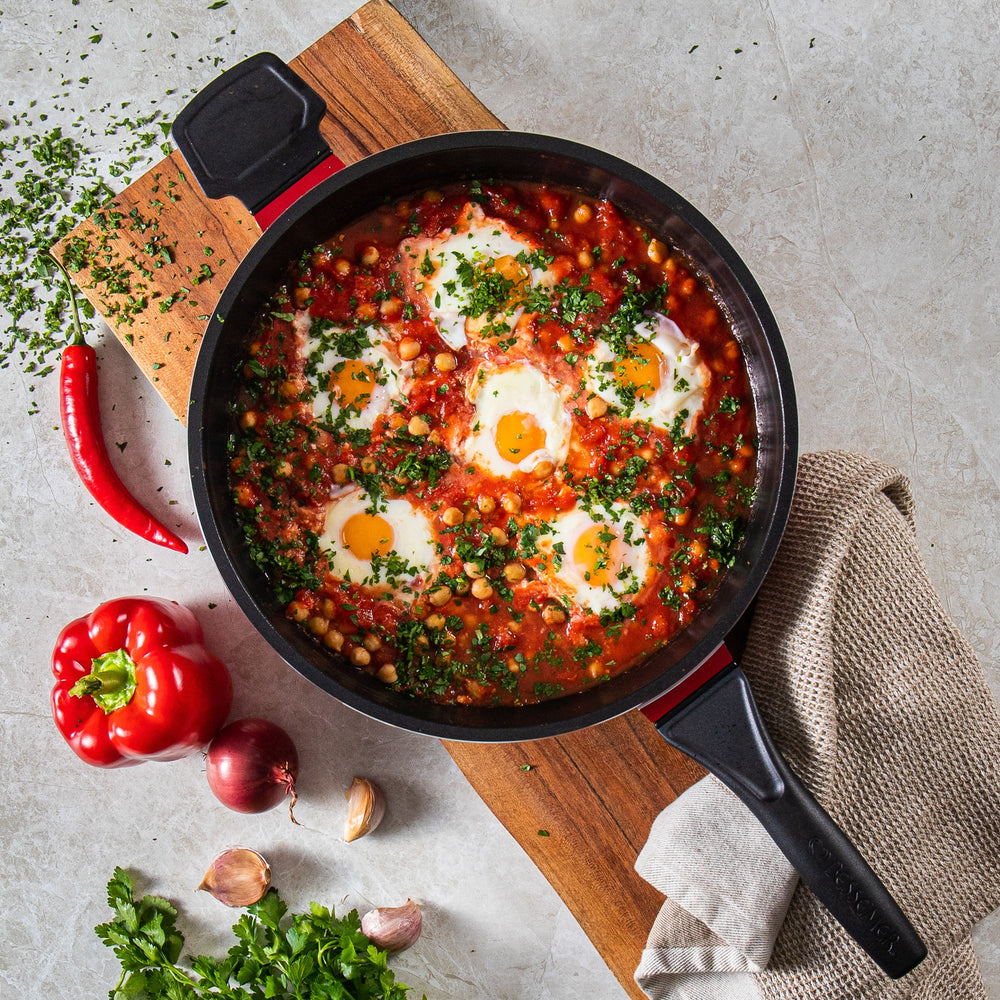 This fabulous Middle Eastern dish features poached eggs in a tomato based sauce. It is vegetarian and gluten free and can be prepared in minutes on the stove for a healthy, wholesome meal. Who says it is only for breakfast?!
Ingredients
2 tbsp extra virgin olive oil
1 small red onion finely chopped
2 garlic cloves finely minced
1 capsicum, chopped into cubes
1 tsp paprika ½ tsp cumin
2 cans of chickpeas, drained and rinsed
2 cans chopped tomatoes
5 large free-range eggs
Sea salt and freshly-cracked black pepper
Method
Heat a large pan over medium heat and add the olive oil
Saute the onion and capsicum, and cook without stirring for 4-5 min, until softened and gently browned
Add garlic, paprika and cumin and cook, stirring, until fragrant, about 30 seconds
Add tomatoes and stir to combine
Reduce heat to a gentle simmer and cook for about 8 minutes, adding chickpeas halfway through
Season to taste with salt and pepper
With the help of a spoon, make a well near the edge of the pan and break an egg directly into it
Repeat with the remaining eggs, then season them with salt and pepper to taste
Place lid on the pan and cook for approximately 6-8 minutes, until the eggs are cooked through and the yolks are still runny
Remove from heat and serve with crusty bread
Enjoy!
Recommended Bessemer Cookware?
For this recipe, we recommend you use the Bessemer Multi Frypan 32CM as featured in this recipe for best results!