Roast Chicken and Vegetables
Roast Chicken and Vegetables
---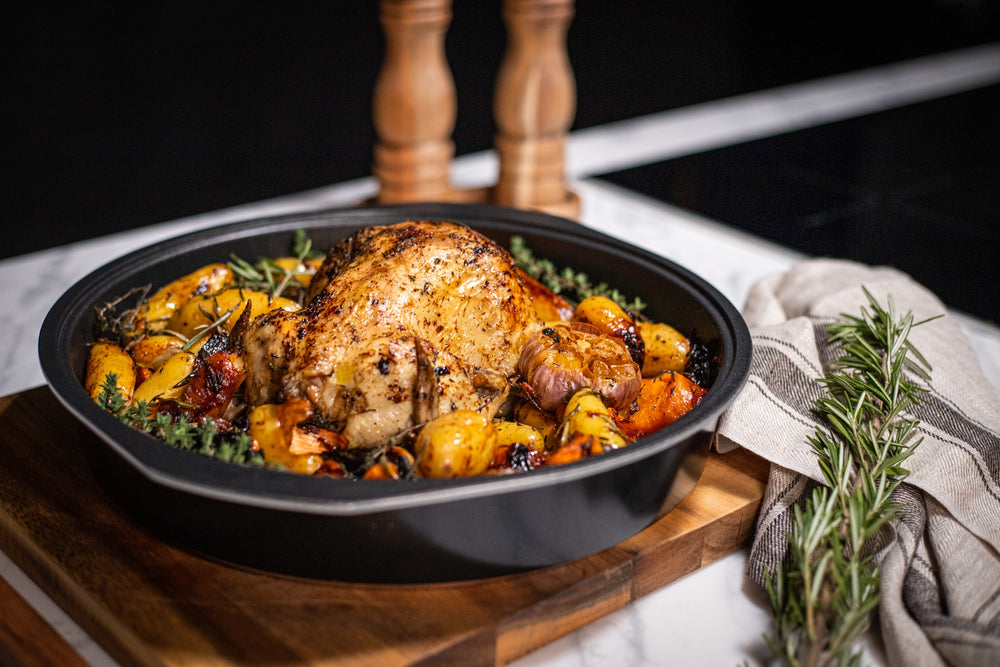 Get the kids involved in the kitchen with this easy and healthy roast chicken recipe. Delicious moist chicken with perfectly cooked vegetables perfect for any occasion!
Ingredients
1 whole chicken
1 lemon
Handful rosemary
Handful thyme
Whole Garlic
Extra Virgin Olive Oil
Vegetables of your choosing - We used:
5 parsnips
3 sweet potatoes
500g kepfler potatoes
Method
Preheat oven to 200C.
Cut and prepare all vegetables, then throw into the Bessemer Baking Dish.
Season vegetables with olive oil, salt and pepper.
To prepare the chicken, prick 1 lemon with a fork and stuff inside the chicken. Season chicken with finely chopped rosemary and thyme, olive oil, salt and pepper. Place chicken on top of vegetables.
Cut 1 head of garlic in half, and place in baking dish along with sprigs of thyme and rosemary.
Cook chicken in the oven for 50-60 minutes until chicken is cooked thoroughly.
Recommended Bessemer Cookware?
For this recipe, we recommend you use the Bessemer Non Stick Roaster 34cm Black as featured in this recipe for best results!